Whether you are staging a single-family home or an apartment building, the goal is the same: sell or rent for the best possible price as fast as possible. Staging helps to achieve this goal by showing the property in its best light. While you will likely have less space to work with when staging multi-family units than you would with a detached house, you can rest assured that it's still possible to stage these units with purpose; we do it all the time! Here are 5 of our tips for staging multi-family units in Edmonton.
Use mirrors and lighting.
Mirrors can create an illusion of more space by reflecting light and making rooms feel bigger. Multi-family units in Edmonton can capitalize on staging to make rooms appear larger! Hang a mirror on a wall, or choose furniture with mirrored surfaces to add depth to the room, like a coffee table with a mirror top. Lighting is another way to make small rooms look more prominent. Adding adequate lighting to a room can create a brighter and more inviting atmosphere, making the space feel larger. Natural light from windows is always a bonus as well. Also, table and floor lamps can add warmth and create a cozy ambiance, making the room more spacious and inviting.
Arrange furniture intentionally.
Start by evaluating each room and considering the best arrangement to maximize space and functionality. Experiment with different furniture placements to create inviting conversation areas and open pathways. For example, you can arrange seating around a focal point like a fireplace or coffee table. Aim to create rooms that look balanced and purposeful. Leave enough room for easy movement and ensure each area serves a clear purpose.
Maximize vertical space.
To make a small room appear bigger, you must maximize vertical space to draw the eye upwards. Installing shelves or hanging artwork higher up on the walls maximizes vertical space, drawing the eye up. Hang curtains high up on the walls, close to the ceiling, so you can make the room seem taller and more spacious. Choose lightweight fabrics in neutral colours to create a bright and airy feel. Floor-to-ceiling bookcases or shelving units offer a display space while creating the illusion of higher ceilings; use them to showcase books, plants, or any decorative items. Staging your multi-family units in Edmonton will make your commercial property look the best it can.
Plants, plants, plants.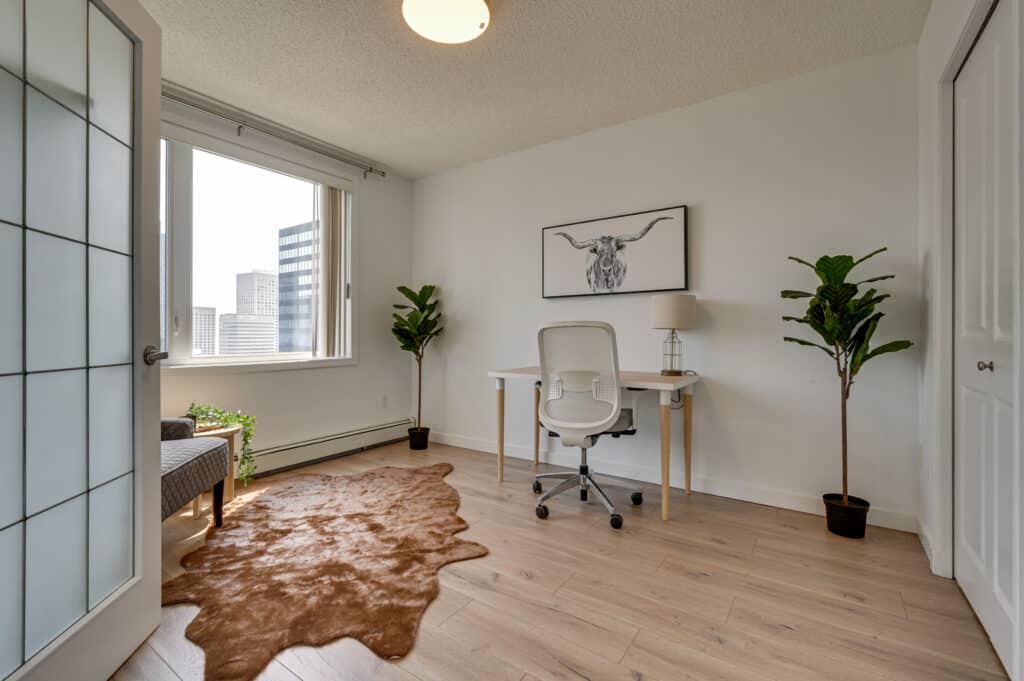 Plants complement any space; they look lovely, help clean the air, and enrich a room. Certain plants can also make a room appear larger than it is. Snake plants are a great addition if you're attempting to give the allusion of higher ceilings, as they typically draw your eye up with their height. Are you aiming for a more relaxed feel? Get a monstera! They add a cozy, clean sensation to any room. Faux plants work just as well if you don't have a green thumb. Whether buyers or renters notice the beauty of the plants or not, they will undoubtedly feel the difference.
Remember that home staging is a marketing strategy.
Home staging is both a selling and marketing strategy. Sure, some staging companies in Edmonton will make a space look exquisite with top-tier staging furniture, but that isn't what sells a house. You should stage your multi-family units in Edmonton with a target buyer in mind (i.e. larger families, new parents, empty-nesters, retired folks, students, etc.). Once you know who will most likely be interested in living in these units, stage them to suit how your target buyer or renter will live. Rest assured that staging units come down to marketing, not how expensive the nightstands are in the bedroom.
Realty Unleashed offers free Edmonton home staging.
The advantage of staging multi-family units in Edmonton is that you don't need to stage every unit; you can get away with staging a few units to represent the whole. For example, if your building has 6 bachelor suites, 10 1-bedroom suites, and 10 2-bedroom suites, you can stage one of each so long as the layout is virtually the same. Realty Unleashed has been staging properties for years, meaning we have plenty of inventory to suit every kind of home. We know the value of staging before listing because we've seen it work repeatedly; higher offers and faster sales are typically the result of a well-staged property. If you are looking for a commercial REALTOR® in Edmonton, fill out the form below, and someone from our team will get back to you soon.