Professional photography is a very important part of successfully marketing Edmonton multi-family units (apartments, condos, or housing complexes) for several reasons. In a highly competitive real estate market, first impressions matter, and high-quality images can greatly impact a property's marketability and overall success in the real estate market. Professional photos help to give your listing a competitive edge online, capturing the features of your property in the best possible light. Here are some key reasons why professional photography is essential in marketing multi-family units.
Professional photography helps with positive first impressions.
The significance of professional photography in marketing Edmonton multi-family units becomes most evident in the realm of first impressions. When buyers or leasers first look at a property listing online, the first thing they see is a series of images that offer a visual introduction to the space. These initial photographs serve as a digital doorway into a property. Professional photographers have the expertise to capture the property at its absolute best; this skillful presentation sets the stage for a positive and compelling first impression, drawing in potential clients with images that make the property appear inviting, aesthetically pleasing, and well-maintained. The initial visual impact of professionally taken photographs can be the difference between a buyer or leaser scrolling past a listing and taking a closer look, setting the stage for further engagement and a higher chance of a successful transaction.
Professional photography helps with a successful online presence.
In today's real estate landscape, the vast majority of property searches begin online, where prospective tenants or buyers view listings from the comfort of their own homes. Professional photographs not only capture the essence of Edmonton multi-family units but also make them stand out on REALTOR.ca. Well-composed, high-resolution images can instantly capture the viewer's attention, piquing their interest and encouraging them to book an in-person viewing. By creating an eye-catching online presence, professional photography can significantly increase the visibility of your Edmonton multi-family unit listing, attracting more views and inquiries and, eventually, a higher probability of finding the right tenant or buyer. It's an essential component in the digital marketing toolkit for modern real estate professionals, helping ensure that your property is noticed and considered in an increasingly competitive online marketplace.
Professional photography captures a property's features in the best light.
Professional photographers have a keen eye for detail, allowing them to highlight the strengths and characteristics of Edmonton multi-family units, making them stand out in the market. They can skillfully capture the spaciousness of rooms, the quality of fixtures and finishes, and the aesthetic appeal of communal areas like gyms, pools, or landscaped gardens. By strategically framing shots, adjusting lighting, and using professional equipment, they can even make small spaces appear larger, accentuate architectural design elements, and create an overall ambiance that resonates with potential tenants or buyers.
Realty Unleashed uses a professional photographer for all listings!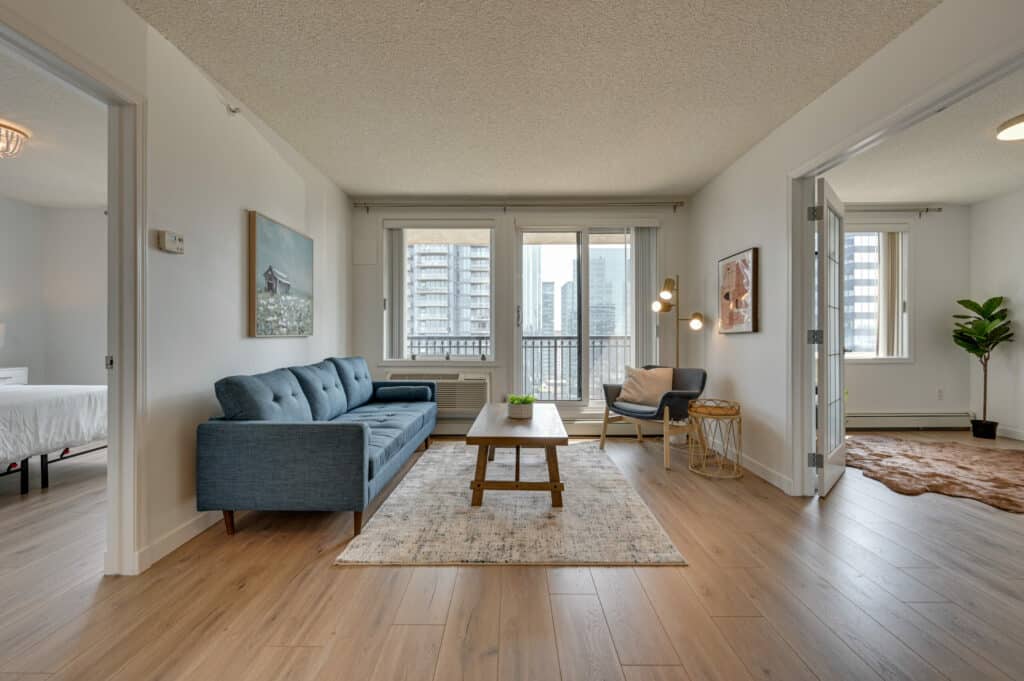 It's challenging to capture the whole essence of a property without good pictures. Sure, you can explain what it looks like in the public remarks, but without professional photography, you are missing out on the biggest market. Blurry pictures taken in bad light can negatively impact the selling process. Because buyers or leasers visit REALTOR.ca when they want to begin their home search, the quality of your online listing is vital! Realty Unleashed uses a professional photographer for every single one of our listings; this is included as part of our listing services. You can read more about the services we provide our clients here. If you need an Edmonton commercial REALTOR® to sell or lease your property, we would love to talk to you. Please fill out the form below, and someone from our team will get back to you soon.